Paul Earle and Ellen Rudnick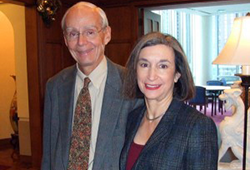 OHU is honored to have so many committed donors who both believe in the work that that we do and continue to generously support our programs. Two such donors Paul Earle and his spouse Ellen Rudnick. The couple helped establish One Hope United's Capital Reserve Fund with a large joint gift, fulfilling their desire to make a more resonant impact that allows the agency to expand and remain sustainable.
Earle and Rudnick have also contributed a three year commitment of funding for the residential CARE program. The funding is providing development and training of a new evidenced-based, trauma-informed model of care through Cornell University. The majority of One Hope United's services, such as early education, foster care and child/family counseling, are underwritten by government funds. As state deficits grow, funding for these programs shrinks.
"Most nonprofits live day to day, especially when the economy is dreadful," says Earle, a retired Spencer Stuart senior leader, who has also served on the One Hope United board. Rudnick, the Executive Director and Clinical Professor of the Polsky Center for Entrepreneurship at the University of Chicago Booth School of Business, agrees: "There are so many overwhelming problems in the world. We take solace in knowing that by donating to One Hope United, we're impacting one child and family at a time, right here in our own community."
Earle and Rudnick have found that One Hope United lines up perfectly with their desire to give to agencies that focus on children and families and to support well‑managed, sustainable organizations with great outcomes. In May of 2017 at OHU's Hope In Action fundraiser, both were recognized with the Leadership In Giving award in recognition of their philanthropic efforts, which include annual gifts such as their program support as well as a Planned Gift. One Hope United is forever grateful for the generosity of Paul Earle and Ellen Rudnick.